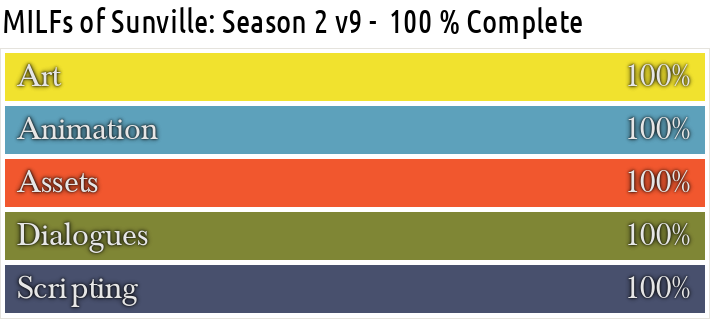 We're team L7!
This team was established to create a line of high-quality projects, the first of which is called MILFs of Sunville and the second is Breeze of Passion.
Every member of our team that consists of seven people has more than three years of game development experience.
By the way, one of the team's founding members and the source of its inspiration is none other than DecentMonkey. He's a reputable author that's been in the community for years.
We're planning to invest all our experience and all our skills into this project.
We already have a work pipeline and high time management skills, so you can expect the games to get regular updates.
About MILFs of Sunville:
A young guy is forced to leave his luxurious life in a big city behind and return to a small town of Sunville, located near the ocean shore. He dreams of going back and is mad at his father who ditched him for a young wife and left him without any financial support. He must find a way and acquire the means to make his plan come true, but will he be able to do it?
A lot of temptations await him on his way. The college he's going to attend is full of sexy girls and teachers. He needs to make a choice: follow his original goal or dive into a seductive world of love affairs.
But nothing is ever easy — some relationships will demand changes from him.
He comes into town as a simple guy, will he be able to change? And what direction will those changes take? Will he become better or worse? There are a lot of different ways of achieving his goals.
You're going to assume the role of that young man in a visual novel with excellent animations and quality graphics. The game also has a slew of cool features. For example, you can take hidden photos with your phone's camera.
Explore the world of MILFs of Sunville!
Dive deep into realistic relationships with people around you!
Why pledge?
We believe that the games should answer to a high standard of quality and get regular updates on time! Become a part of something bigger and support our ideas by subscribing on our Patreon page!
If you support what you're enjoying today, you'll get more of what you enjoy tomorrow! 😉